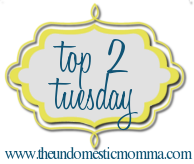 Well we all know that I am definitely NOT one to consult on spring fashion for Women......I do however know lots about kids fashion. I love nothing more than dressing up my kids in cute outfits, they are my only accessory so I take pride in what they are wearing. Me on the other hand, well I have one pair of jeans and a few skirts and pants that I rotate through on a weekly basis but mostly I sport the, "I just went to the gym look" (or really I just did Zumba at home!) So when Taylor posted this weeks Top Tuesday I naturally went to kids fashion.
1. The boys. WOW boys clothes have come SUCH a long way since I had C 5 1/2 years ago! I used to be on a constant search for cute boys clothes and I really only had luck at
Old Navy
, because all the other places looked too "babyish" for my taste. I love my boys to look like "little men" I think we have
Children's Place
to thank for the initial burst of boys fashion. Gymboree has been a big hit for me lately in both boys and girls clothes....I also love their less expensive but equally as cute
Crazy8
store!
I love this Gymboree look for C. Gymboree has come a very long way and they are usually my first stop
I love this bright jacket from Gymboree! It serves two purposes
1. It's super cute 2. I can find my kid pretty easily at a park with this on
2. The Girl - Now my little R LOVES FASHION!!! When I found out I was having a girl it scared me a bit because I HATED wearing dresses as a kid and couldn't have cared less about fashion. However with my child I embraced the idea of being able to dress her up. It rubbed off because she loves clothes and can but an outfit together better than me. I took her to the Gymboree website and she picked these three gems!
What a fun dress I love CORAL!!!
Oh denim dress, I hated you as a kid......but you were never this cute!
Gotta love the accessories R LOVES the shoes and the purse, but she asked if I would make her bow!
Thanks Taylor for another fun T cubed